CADWELD® Connections for Train Control & Neg Power Return
Description
Service time and over 100 million installed bonds prove that the CADWELD Process provides the ultimate in desirable features for railroad signal bonding. ERICO provides an offering of both rail head and rail web signal bonds.
Features
Rail Head Bonds:
Industry standard for joint bonding
Provide maximum detection of broken rail within the splice bar, contributing to the safest possible signal system
3/16 dia./14 mm2 – 250 kcmil/120 mm2
CADWELD rail head joint bonds provide:
Maximum broken rail protection
Unchanging electrical resistance
Maximum corrosion resistance
Maximum protection against physical damage – 7 to 1 shear strength over a pin head bond
Are not destroyed by rail end build up
Rail Web Bonds:
Utilize preformed Type W terminals
Provide a convenient means of connecting all cable outside the confines of the splice bar
Connection is least susceptible to vibration fatigue and kept clear of dragging equipment and maintenance machinery
3/16 dia./14 mm2 – 500 kcmil/250 mm2
Applications
CADWELD rail signal bonds can be used on old, worn or new rails.
More Information
| | |
| --- | --- |
| | |
| Rail Head Bond | Rail Web Bond |
Signal Joint Bond for Use with T-6 and T-7 Welders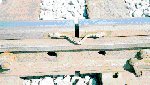 Joint Head Bond Ordering Information
Bond Length
XS Style
TAB Style
HEAD FREE Style
Cable Size
Cable Size
Cable Size
3/16″
3/16″
5/16″
3/16″
6-1/2″
SBS24882
SB20104
—
SB20112
7″
—
—
SB20175
—
7-1/2″
SBS24883
SB20136
—
SB20128
9-1/2″
SBS24884
SB20108
—
SB20116
Note: All 3/16″ Joint Head Bond Terminals are 3/4″ long; 5/16″ are 1″ long.
Necessary Welding Material, a flint igniter and a pair of replacement molds are packaged with each 100 bonds. Two complete mold cleaners are supplied with each 500 bonds.
Engineering Specifications
All electrical connections to rail should be welded with the CADWELD copper-based exothermic welding process as manufactured by ERICO.
All connections within the splice bars should be to the "field" side of the railhead.
All other connections should be made on the rail web at the neutral axis.