The Compact Surge Reduction Filter
Description
No need to purchase a short-lived device to get maximum protection for your critical equipment. The robust TSG handles high surge energies, and the True L-C filter and Transient Discriminating Technology stages reduce let-through voltages, providing both features at an affordable price.
Surges and voltage transients are a major cause of expensive electronic equipment failure and business disruption. Damage may result in the loss of capital outlays, such as computers and communications equipment, as well as consequential loss of revenue and profits due to unscheduled system downtime.
The Compact 63 Amp series of Surge Reduction Filters — a CRITEC part within the ERITECH line of Facility Electrical Protection products — offers an economic alternative to the premium TSG-SRF Surge Reduction Filter series. They utilize the same Triggered Spark Gaps to provide high-energy primary surge diversion, but include a more compact filter section. The secondary surge diversion elements are based on the well-received modular technology of the TDS150 that allows individual modules to be easily replaced in the field, if required. Optionally, they are available without the enclosure for direct mounting within an existing electrical panel.
The Compact 63 Amp series of Surge Reduction Filters find their application where the benefits of the TSG-SRF filters are required, but economic considerations dictate a different solution. The simple construction provides for easy field service.
Features
Incorporate TSG and TD Technologies – high-performance protection, ideal for exposed critical service entrance applications
Reduce let-through voltages and rate-of-voltage rise (dv/dt) needed for the optimum protection of electronic equipment
Mount components directly to DIN rail. The filter can be supplied without the enclosure for direct incorporation into a panel board
Provide status indication of all surge diversion elements facilitating easy determination of filter health, and are field replaceable if required
ERICO Surge Products are covered by an extended warranty; see the attached document for more information
Applications
Receive maximum protection of critical electronic equipment and reduce let-through voltages and rate-of-voltage rise (dv/dt).
More Information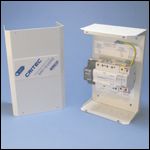 Single Phase Model (cover removed)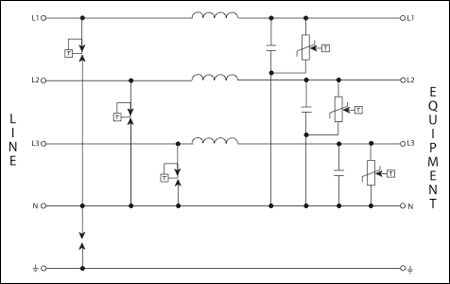 Schematic Diagram (3 Phase Unit)
Downloads
TSG Series Surge Reduction Filters (TSG-SRF) Installation and Operating Instructions