CRITEC® CSP Series – Coaxial Surge Protector
Description
These surge diverters offer economical and reliable protection from transients on coaxial antenna RF feeders cables.
They are comprised of a leadless gas discharge tube (gas arrester) housed in a chrome plated brass block. Careful design and precision machining has allowed the match between the characteristic impedance of the unit and the cable to be optimized. This attention to detail has resulted in a unit capable of operating at typical power and frequency levels of 1000W and 3GHz respectively, whilst minimizing the insertion and return losses.
For protection of equipment connected to Cable TV lines or antennas, ERICO offers the CATV HF. For the protection of security cameras and other CCTV circuits, ERICO offers the CCTV12.
Features
Robust design
Simple plug-in installation
CSP models to suit N and BNC cable terminations
CSP bulkhead N-type versions available
High impulse current rating (20kA 8/20µs)
Wide operating frequency spectrum
Low insertion and return loss
Mounting bracket and ground lead included
CE approved
Applications
Bulkhead mount

A convenient mechanical arrangement for termination and protection of coaxial cables at a comunication site's point-of-entry

In-Line installation

Generally used for direct connection to the radio equipment antenna port, or in line with the coaxial feed
More Information
Application Example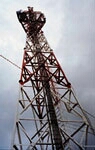 How to Choose the Correct CSP
For RF circuit protection the CSP is available with a choice of two nominal clamping voltages. The selection of the CSP unit is based on the peak transmitting power of the communication circuit. From this the peak circuit voltage is calculated and the CSP with the next highest clamping voltage is selected.
The formula is:
Vpeak = VSWR x 1.4 x Sqrt(50 x Transmit Power)
Where VSWR is the Voltage Standing Wave Ratio (use 1.5 if unsure) and Transmit Power is in Watts.
If Vpeak <72V use CSPxxx90
If Vpeak >72V & <480V use CSPxxx600
Ordering Information
Part No.
Part No.
for Europe
Description
CSP NMF 90
700310
N-Type M to F, 72-108V
CSP NMF 600
700355
N-Type M to F, 480-720V
CSP BNC 90
700360
BNC-Type M to F, 72-108V
CSP BNC 600
700405
BNC-Type M to F, 480-720V
CSP NB 90
700410
Bulkhead N-Type F to F, 72-108V
CSP NB 600
700455
Bulkhead N-Type F to F, 480-720V