ERITECH® Arc Weldable Bonds
Description
WAPP offers ERITECH® Arc Weldable Bonds.
Features
Rod is sized to match the ampacity of the cable for fault currents
Economical alternative to exothermic welding when only a few connections need to be made and an arc welder is available on site
Applications
Flash welded (19 strand) concentric cable to steel rod for grounding/bonding connection to structural steel and to rebar.
More Information
ERITECH® Arc Weldable Bonds – Ordering Information
Arc Weldable Bonds
Part #
Cable
Rod
EWB2G9164
2/0 X 4′ lg
.562″ X 8″ lg
EWB2L584
3/0 X 4′ lg
.625″ X 8″ lg
EWB2Q344
4/0 X 4′ lg
.750″ X 8″ lg
All cable is 19 strand concentric.
 ERITECH® Arc Weldable Bonds – Installation Information
Welding To Building Steel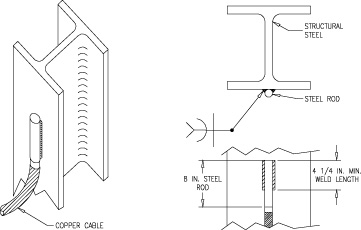 Downloads
ERITECH Arc Weldable Ground Connections Installation Instructions