ERITECH® Chemical Ground Electrode System
Description
ERITECH Chemical Ground Electrode System provide a low-impedance ground in locations of high soil resistivity. Together with GEM as backfill, the system dissipates lightning energy and other dangerous electrical fault currents, even in sandy or rocky soil conditions.
Features
2-1/8 (54mm) OD Type K copper pipe contains natural electrolytic salts that permeate into the surrounding soil, lowering resistivity
Available up to 20 feet (610cm) in continuous length and longer rods can be field assembled using 10 foot (305cm) sections
L-Shaped rods are installed horizontally in a trench where it is impractical to auger deep vertical holes
Easy connection to conductors using the pigtail (Up or Down orientation)
UL & cUL Listed to UL467 and CSA C22.2 No.41 respectively
Custom assemblies available
Applications
The Chemical Ground Electrode system is ideal for locations of high soil resistivity.
More Information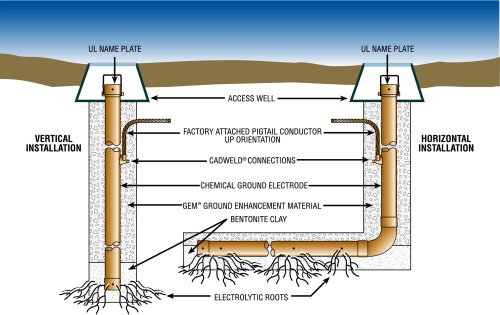 Ordering Information
Chemical ground rod electrodes can be ordered as individual components or as a complete kit.
Kits include the chemical ground rod electrode (pre-filled at the factory with electrolytic salts), bentonite and GEM backfills, and an access well. To order the chemical ground rod electrode only, add (B) to the end of the part number.
Variables for Specifying Chemical Ground Rod Electrodes
STYLE:
V – Vertical (straight)
E – Extended Vertical (straight)
H – Horizontal (L-shaped)
LENGTH:
3.05 m, 3.66 m, 4.57 m, and 6.10 m continuous length
10′, 12′, 15′, and 20′ continuous length
Examples
Chemical Electrode Only:
ECRV102Q4DB – 10′ vertical with 4/0 pigtail (4′ length) in down orientation

Complete Kit:
ECRH101T4U – 10′ horizontal with #2 solid (4′ length) in up orientation with backfill and access well