Ground Bars
Description
Proper bonding is essential to create an equipotential plane between service grounds and equipment during fault and transient conditions. This equipotential plane provides a near zero voltage differential and serves to protect people and equipment during these events. The most popular bonding product in use today is the ground bars or bonding bars.
Features
Provide a convenient, single-point grounding and bonding location
Applications
ERICO offers a wide variety of stocked configurations for the wireless telecommunications industry, as well as a perimeter bus system for halo grounds.
More Information
Ground Bars

| | | | | |
| --- | --- | --- | --- | --- |
| Part No. | T (in) | W (in) | L (in) | Description |
| EGBA14112EE | 1/4 | 1 | 12 | Ground Bar (Insul & Brkt) with hole pattern EE |
| EGBA14212EE | 1/4 | 2 | 12 | Ground Bar (Insul & Brkt) with hole pattern EE |
| EGBA14212HH | 1/4 | 2 | 12 | Ground Bar (Insul & Brkt) with hole pattern HH |
| EGBA14212TES | 1/4 | 2 | 12 | Ground Bar (Insul & Brkt) with hole pattern GG and a pair of 5/16″ holes (3/4″ space) on either end |
| EGBA14215JJ | 1/4 | 2 | 15 | Ground Bar (Insul & Brkt) with hole pattern JJ |
| EGBA14215TES | 1/4 | 2 | 15 | Ground Bar (Insul & Brkt) with hole pattern GG and a pair of 5/16″ holes (3/4″ space) on either end |
| EGBA14410FF | 1/4 | 4 | 10 | Ground Bar (Insul & Brkt) with hole pattern FF |
| EGBA14412AA | 1/4 | 4 | 12 | Ground Bar (Insul & Brkt) with hole pattern AA |
| EGBA14412AA1TT | 1/4 | 4 | 12 | Tinned Ground Bar (Insul & Brkt) with hole pattern AA and a #2 solid tinned pigtail 26′ long |
| EGBA14412BB | 1/4 | 4 | 12 | Ground Bar (Insul & Brkt) with hole pattern BB |
| EGBA14412CC | 1/4 | 4 | 12 | Ground Bar ( Insul & Brkt) with hole pattern CC |
| EGBA14412MM | 1/4 | 4 | 12 | Ground Bar (Insul & Brkt) with hole pattern MM |
| EGBA14412NN | 1/4 | 4 | 12 | Ground Bar (Insul & Brkt) with no holes |
| EGBA14414KK | 1/4 | 4 | 14 | Ground Bar (Insul & Brkt) with hole pattern KK |
| EGBA14420CC | 1/4 | 4 | 20 | Ground Bar (Insul & Brkt) with hole pattern CC |
| EGBA14420CCSKY | 1/4 | 4 | 20 | Ground Bar (Insul & Brkt) with hole pattern CC and a pair of 5/16″ holes on either end |
| EGBA14420CCT | 1/4 | 4 | 20 | Tinned Ground Bar (Insul & Brkt) with hole pattern CC |
| EGBA14420HIGT | 1/4 | 4 | 20 | Tinned Ground Bar (Insul & Brkt), 11 pair of 7/16″ holes (13/16″ between rows & 1″ between columns), 2 pairs of 11/16″ holes 1-334″ spacing |
| EGBA14420NN | 1/4 | 4 | 20 | Ground Bar (Insul & Brkt) with no holes |
| EGBA14420HIG | 1/4 | 4 | 20 | Ground Bar (Insul & Brkt), 11 pair of 7/16″ holes (13/16″ between rows & 1″ between columns), 2 pairs of 11/16″ holes 1-334″ spacing |
| EGBA14424CIGBE | 1/4 | 4 | 24 | Ground Bar (Insul & Brkt) CIGBE |
| EGBA14424CIGBET | 1/4 | 4 | 24 | Tinned Ground Bar (Insul & Brkt) CIGBE |
| EGBA14424MM | 1/4 | 4 | 24 | Ground Bar (Insul & Brkt) with hole pattern MM |
| EGBA14424CC | 1/4 | 4 | 24 | Ground Bar (Insul & Brkt) with hole pattern CC |
| EGBA14430CC | 1/4 | 4 | 30 | Ground Bar (Insul & Brkt) with hole pattern CC |
Ground Bar Hole Patterns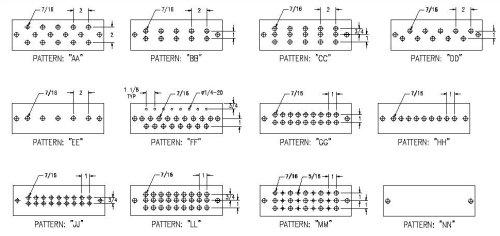 Perimeter Bus System
Part No.
T
(in)
W
(in)
 L
(in)
Description
Straight Bus
EPGC181120
1/8
1
120
Perimeter Ground Bus, with 7/16″ Holes on 30″ Centers
EPGC182120
1/8
2
120
Perimeter Ground Bus, with 7/16″ Holes on 30″ Centers
EPGC184120
1/8
4
120
Perimeter Ground Bus, with 7/16″ Holes on 30″ Centers
EPGC141120
1/4
1
120
Perimeter Ground Bus, with 7/16″ Holes on 30″ Centers
EPGC142120
1/4
2
120
Perimeter Ground Bus, with 7/16″ Holes on 30″ Centers
EPGC144120
1/4
4
120
Perimeter Ground Bus, with 7/16″ Holes on 30″ Centers
90° Angle for Walls
EPGC1816X6
1/8
1
6 X 6
90° angle for around walls
EPGC1826X6
1/8
2
6X6
90° angle for around walls
EPGC1846X6
1/8
4
6X6
90° angle for around walls
EPGC1416X6
1/4
1
6X6
90° angle for around walls
EPGC1426X6
1/4
2
6X6
90° angle for around walls
EPGC1446X6
1/4
4
6X6
90° angle for around walls
Flat 90° Angle for Doors
EPGC1818X8FL
1/8
1
8X8
Flat 90° angle for around doorways
EPGC1828X8FL
1/8
2
8X8
Flat 90° angle for around doorways
EPGC1848X8FL
1/8
4
8X8
Flat 90° angle for around doorways
EPGC1418X8FL
1/4
1
8X8
Flat 90° angle for around doorways
EPGC1428X8FL
1/4
2
8X8
Flat 90° angle for around doorways
EPCG1448X8FL
1/4
4
8X8
Flat 90° angle for around doorways
Ground Bars Mounting Kits
| | |
| --- | --- |
| Part No. | Description |
| B548A41 | Mounting Kit for 1″ and 2″ Wide Bars, SS Hdwr & 3/8″ Fasteners, Insulator and Bracket |
| B548A42 | Mounting Kit for 3″ and 4″ Wide Bars, SS Hdwr & 3/8″ Fasteners, Insulator and Bracket |
| B548A01 | Mounting Kit for 1″ and 2″ Wide Bars, 1/2″ Fasteners, Insulator and Bracket |
| B548A02 | Mounting Kit for 3″ and 4″ Wide Bars, 1/2″ Fasteners, Insulator and Bracket |