SBM-E Electric Rail Drills
Description
The SBM-E range of electric rail drills is designed for smooth, reliable and quiet drilling operation onto the web of existing rail profiles. Available in both AC mains and DC battery versions, these machines are ideally suited for transit and tunnel work. The machines can take a range of drill sizes from signaling bond hole applications to fishbolt hole size. A wide range of accessories are available: clamping units, drill cutters, along with rail profile and special application templates.
Features
Compact and easy to use
"Whisper" quiet operation
220/240 V AC, 1.5 kW, with a spindle speed of 280 rpm
48v DC, 1.4kW, with a spindle speed of 390 rpm
Lightweight –12 kg
A range of interchangeable templates to suit all common rail profiles
Uses industry standard drill cutters
Applications
For smooth, reliable and quiet drilling operation.
More Information
Drilling Machine Electro Powered
Part
Code
Part
Number
Part Description
Power
Weight*
Drill Hole
Ø
inch
mm
SBM-E 391
715400
Rail Drilling Machine; 48 V DC; 390 rpm
Battery Pack
28 lbs
12 kg
1/8" – 7/8"
max 24
SBM-E
715404
Rail Drilling Machine; 220/240 V AC; 280 rpm
Cable
28 lbs
12 kg
3/8" – 1-3/8"
8 – 36
*Without battery pack.
Note: When ordering a machine, you must also order a template adapted to the appropriate rail profile.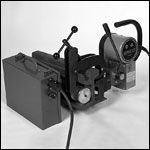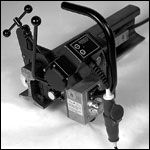 Drilling Machine Accessories (for all above)
| | | |
| --- | --- | --- |
| Part Code | Part Number | Part Description |
| | 715357 | Battery Pack |
| Coolant Tank | 715375 | Coolant Tank w/ pump |
| Tool Set | 715395 | Tool Set for machine maintenance |
| | 715425 | Battery Charger |
| Metal Case Accessories | 715515 | Metal Carrying Case for drills, cooling pins, other tools |
| Metal Case Drill | 715695 | Metal Carrying Case for different drills |
| BSK1 | 715360 | Clamping device rail head for normal rails; 7 lbs (3 kg) |
| BSK2 | 715370 | Clamping device rail head for grooved rails; 9 lbs (4 kg) |
| BSF1 | 715380 | Clamping device rail foot; 9 lbs (4 kg) |
 
 
 
 

Coolant Tank




(715375)

 

Metal Carrying Case for Tools and Accessories (715515)

 

Maintenance Tool Kit

(715395)

 
 
 

BSK2 Clamping Device for Grooved (Trolley)




Rail Profiles (715370)

 

BSK1 Clamping Device for Standard T Rail Profiles (715360)
Downloads
ERICO Rail drilling machines SBM-V, SBM-E48V DC, SBM-E230V AC, Data Sheet