TDL 250/400A Four Pole Distribution Blocks
Description
Four pole distribution blocks, part of the ERIFLEX® line of low-voltage power distribution products from ERICO, feature an improved design with solid bars for greater reliability. The halogen-free TDL 250/400A four pole distribution blocks are IP 10, UL® Recognized hand safe.
The convenient design makes it easy to inspect the wire and confirm the connection. The TDL 250/400A features a tinned copper bar, reinforced plastic parts and large end terminals to help ensure reliable connections.
Features
High short circuit withstanding 51 KA
Working voltage: 1000 VAC – 1500 VDC per IEC®; 600 V per UL
Intensity up to 400A per IEC and UL
Easy connections: Input separated from outputs
Easy input connection: ERIFLEX® FLEXIBAR – IBS – cable
Wiring access from both sides
Tinned copper bars: copper or aluminum cables
Visual inspection of wire and confirmation of connection
Solid bars provide reliability
Strong mechanical assembly
IP 10 Hand Safe
High % of fill ratio
Easy fixing: clip on DIN Rail or mount to panel with screws
Applications
From a unique input conductor, ERIFLEX FLEXIBAR or cable, the four pole distribution block distributes the current through 14 output cables per phase.
More Information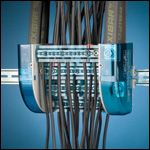 UL is a registered trademark of Underwriters Laboratories, Inc.
IEC is a registered service mark of International Electrotechnical Commission.