UDF 250A and 500A Single Pole Distribution Blocks
Description
Single pole distribution blocks, part of the ERIFLEX® line of low-voltage power distribution products from ERICO, are compact and modular to allow versatile building of power blocks into single pole, two pole, three pole or four pole.
The UDF 250A and 500A feature a screw retaining, transparent blue cover to allow visual inspection of the wire and confirmation of the connection. The cover is also hinged for easy removal. The single pole distribution blocks easily clip onto DIN Rail or mount to the panel with screws. A direct input connection is made using ERIFLEX® FLEXIBAR.
Features
High short circuit withstanding 30 KA (UDF 250A) ; 51 KA (UDF 500A)
Working voltage: 1000 V AC/DC, per IEC®
IP 20 finger safe
Halogen free
95% fill ratio
Tinned copper block: copper or aluminum cables
RoHS compliant
Short circuit rated up to 100 KA (UDF 250A) – See UL® file E198301
Self extinguishing: UL94 V-0
Easy fixing: clip on din rail or mount to panel with screws
Applications
From a unique input conductor, the single pole distribution block will distribute the current through six output cables (UDF 250A) or 11 output cables (UDF 500A).
More Information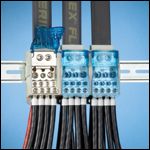 IEC is a registered service mark of International Electrotechnical Commission.
UL is a registered trademark of Underwriters Laboratories, Inc